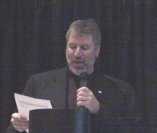 Michael Drapkin did his first business deal at the age of 9, when he saw a card at the local supermarket advertising a tape recorder and accessories for $15. He bought the lot, sold the tape recorder for $25, kept the accessories and pocketed the difference.
In the business world, Drapkin has significant experience and a long track record in management, especially successfully managing large complex projects. He is Principal Consultant of Drapkin Technology Corp., a consulting firm with clients ranging from Gateway Computer to Sony Music, has worked with over 30 startups, and is an advisory management consulting, program and project manager, performing regulatory, compliance, AML/KYC/BSA projects for financial services firms. He previously served as Director of Technology for Avalanche (Razorfish's first acquisition) and was CTO of DMS Corp., a quarter billion dollar multinational firm in the logistics business, where he managed technology across two continents, and where colleague Jack Dorsey got the idea for Twitter. He also was a vice president at Lehman Brothers, overseeing the firm's deployment of client/server technology, including their first installation of a company-wide data warehouse for brokerage client business intelligence, and a business strategy executive with telecom upstart IDT, for which he has a patent pending.
Drapkin chaired the E-Commerce Management program at Columbia University's Executive Information Technology Management program, teaching senior managers and directors of major firms how to become CEO/CIO/CTOs, and was a visiting lecturer on E-Commerce at the University of Chicago. He has consulted to numerous small firms and Fortune 1000 firms on all aspects of business — from how to increase profits using the web to how to effectively deploy the latest technology.
Drapkin recently led two FinTech startup ventures:
CODDS (Customer Onboarding Document Delivery Service) to provide compliance and regulatory file and information for financial services firms to meet anti-money laundering and KYC (Know Your Customer) regulations.
PowerCards – a whitelisted credit card that allows consumers to actively decide and manage which merchants can post charges to their credit card account.
His articles on technology have appeared in numerous trade periodicals, and he has been quoted in Fortune, Wired, eWeek, New York Times, Chicago Tribune and numerous other publications, on camera with CNBC and CNET, and on the radio with CBS Marketwatch. He has spoken at major technology and e-commerce conferences, including Comdex, Internet World, PC Expo and eVenture World. He has also moderated panels for Akamai, Linkshare, the Executive Council of New York and other firms and conferences. He is the lead author of a book on E-Commerce strategy, organization and project management, Three Clicks Away, published by John Wiley and Sons, with a foreword by Dr. Pehong Chen – CEO and founder of BroadVision. Three Clicks Away was ranked #20 in sales on Amazon in New York City. You can see the entire list at Drapkin Technology: in the news.
For more information, email [email protected] or call 512-590-2544.